Mike Schwartz - PC Support & Services
---
Here are a couple of sample video clips from the filePro convention:
Tapes cost $250.00 for the full set, although conference attendees may purchase a set for $100.00.† Prices include ground shipping and handling.† Please send your checks or money orders in U.S. Funds to:† PC Support & Services, 3650 N Suncrest Lane, †Appleton, WI 54914.
<![if !vml]>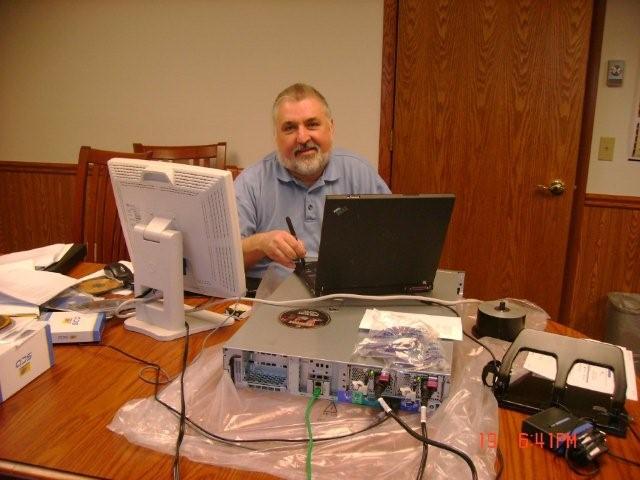 <![endif]>
---
SCO Unix - filePro - Computer Hardware - Novell - Accounting Systems
Hereís a photo of me working hard, installing SCO OpenServer 6 on a new HP rack-mount server. Actually, OpenServer 6 is a lot easier to install and administer than were previous versions of OpenServer, Unix and Xenix.
As a computer consultant, I specialize in working with the Unix and Linux operating systems, and am an authorized SCO Openserver dealer: Welcome to SCO!
I do 4GL custom database programming work, including writing complete accounting and order entry systems. Most of this work utilizes filePro ô : FilePro Main Page
I sell and install IBM PC compatible computer systems and related hardware, including office networks, like Novell †tm†
Although Iím not a practicing accountant, I am an authorized Cougar Mountain Accounting Software dealer, and I have experience installing and maintaining several other computerized accounting systems, such as Open Systems(OSAS), Quickbooks, Great Plains and Realworld.
As a private pilot, I am interested in aviation, airplanes and flying. Here's my favorite aviation site: AVweb
You might be interested in learning more about my faith: Catholic Online
This page resides in Appleton, Wisconsin at the Athena Group on: AthEnet
You can E-mail me at:Mike Schwartz, Pilot and Programmer Extrodinaire